FROSTisRAD is an alternative artist in the Metro Detroit area who mixes his passions for music and video into one cohesive multimedia experience. As an art director, vocalist, and designer, his work evokes powerful emotions like love, rage and sadness.    
As a Director/ Art director , FROSTisRAD has made projects for Shady Records , Def Jam , CW network , Sony music and many others. After such experiences FROSTisRAD developed a way to blend his passions, with the creation of AV CLUB. AV CLUB was solely created to encompass his dual passion for both audio and video aesthetics. 
With his recent release of SUMDAYS  he conveys the frustrations of being stuck in the same everyday routine and having "A case of the Mondays." The mood of the track begins with an audio clip from the film, Office Space, transitioning into an alternative mix of pop punk melodies and rap.  When it comes to FROSTisRAD you never know what kind of sound you're going to meet with. When heard however, it is almost certain that you're bound to love his unique mixing. 
 FROSTisRAD merch (KLLRWHLS) and music is sold and streamed all around the world supplying the constantly growing demand. AV CLUB  is excitedly looking forward to the future and touring in 2022.
"

If Kurt Cobain and blink 182 had a kid in Detroit, I'm pretty sure he would sound like this." - John Marks
"

As I grow closer to my second full decade in curating & participating in the industry one thing I've come to look for in artists is someone who is able to define their sound in a way that it's instantly recognizable. FROSTisRAD is one of those artists. His sound is his own & his voice is unique enough to know it's him as soon as you hear it. "Cold Heart" is no exception as a mixture of singing, screaming, and emceeing take turns as the record builds and builds. A rockstar in his own right with more music on the way, in the meantime, take in the glory of his latest above." - Commission
ON SET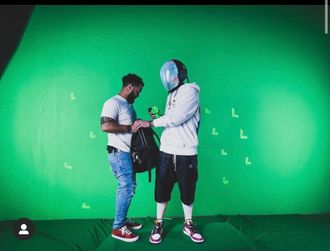 fans love merch